Welcome to Chalo Thailand
Book your dream journey with Chalo Thailand today and experience the magic of Thailand firsthand. Explore vibrant cities, pristine beaches, and rich cultural heritage. Unforgettable adventures await – don't miss out! Plan your perfect getaway now!
Chalo Thailand, established in 2022, is a renowned destination management company with a SHA+ certification. Our headquarters are located in Bangkok, Thailand. Since our inception, our primary focus has been on ensuring safe, enjoyable, and hassle-free travel experiences for our valued customers. We take pride in offering a diverse range of packages that can be tailored to suit specific preferences and budgets, making them accessible to as many individuals as possible. Whether it's creating unforgettable family holidays, organizing group travels, arranging MICE tours, educational tours, or facilitating medical tours, we have extensive expertise in providing exceptional services. Our offerings extend beyond accommodation and transportation, encompassing top-notch hotel reservations, seamless transportation arrangements, and remarkable sightseeing options.
Destination we offer in Thailand
Phuket, Thailand's largest island, beckons with its stunning beaches, crystal-clear waters, and vibrant nightlife. It offers a myriad of water activities, from snorkeling and diving to kayaking and sailing. With its luxurious resorts, lively markets, and delectable cuisine, Phuket is an idyllic tropical paradise that caters to both relaxation seekers and adventure enthusiasts. Experience the beauty and excitement that Phuket has to offer.
Bangkok, the dynamic capital of Thailand, is a city that effortlessly blends tradition and modernity. It entices visitors with its mesmerizing temples, bustling markets, vibrant nightlife, and mouthwatering street food. Whether exploring historic landmarks, indulging in shopping sprees, or immersing in its rich cultural heritage, Bangkok promises a captivating and unforgettable experience for all who visit.
Pattaya, a coastal city in Thailand, is known for its vibrant nightlife, beautiful beaches, and exciting entertainment options. It offers a range of water sports, thrilling amusement parks, and lively street markets. Visitors can also explore its cultural attractions, indulge in delicious seafood, and enjoy a relaxed beachside getaway. Pattaya is a destination that promises a blend of excitement and relaxation.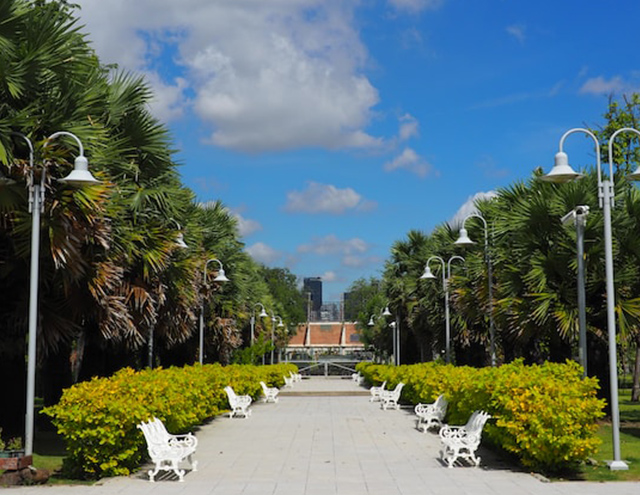 Chiang Mai, located in northern Thailand, is a city renowned for its rich history, enchanting temples, and natural beauty. It offers a unique blend of ancient traditions and modern attractions. Visitors can explore the charming old town, participate in vibrant festivals, experience Thai massage, trek through lush mountains, and immerse themselves in the warm hospitality of the locals. Chiang Mai is a cultural gem that captivates travelers seeking authenticity and serenity.
Phi Phi Island, Thailand, is a slice of paradise in the Andaman Sea. With its pristine white-sand beaches, crystal-clear waters, and towering limestone cliffs, it offers stunning natural beauty. Whether it's snorkeling in vibrant coral reefs, exploring hidden coves, or enjoying vibrant nightlife, Phi Phi Island promises an unforgettable tropical getaway that captivates and rejuvenates visitors.
Hua Hin, a coastal town in Thailand, is a charming retreat known for its pristine beaches, relaxed atmosphere, and cultural attractions. It offers a blend of natural beauty, historical sites, and modern amenities. Visitors can enjoy water sports, explore vibrant night markets, visit royal palaces, and indulge in world-class golfing. Hua Hin is an ideal destination for a laid-back beach getaway with a touch of Thai charm.
"Discover the allure of Thailand with Chalo Thailand - Your Gateway to Unforgettable Journeys!"
Why Choose Chalo Thailand?
Our Media Gallery
Take a look at some pretty pictures captured in and around our premises.
Ankit Datta
I recently had the pleasure of using the services of Chalo Thailand and I must say, I was thoroughly impressed. From the moment I contacted them to plan my trip, their team was extremely helpful and professional.
Vaishali Dagra
They took the time to understand my needs and preferences, and were able to suggest a range of options that perfectly matched my requirements. They made the entire booking process seamless and stress-free, which allowed me to focus on getting excited for my trip.
Anil Prajapati
During my travels, everything went smoothly and without a hitch. All the arrangements made by the agency were flawless, and I never had to worry about anything. I was able to relax and fully enjoy my vacation, knowing that everything was taken care of.
Rajat Kumar
Overall, I would highly recommend XYZ Travel Agency to anyone looking for a reliable, efficient, and professional travel agency. Their attention to detail and commitment to customer satisfaction truly sets them apart. Thank you for a wonderful experience!